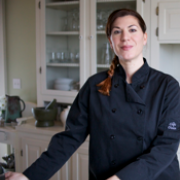 Chef Forster, first
entered the Hospitality arena over twenty years ago and spent her first decade working as a Catering and Special Events Manager.  Along the path, she discovered that she needed more of a creative challenge and felt the need to work with her hands. She went the route of apprenticeship and has spent the last decade honing her chef skills.  Her clients include some of Toronto's leading catering companies, corporations, and VIP's. 
In 2013 Nicole worked behind the scenes for the award winning television show Master Chef Canada, as a part of their culinary team.  It was a great opportunity, to immerse herself in the world of food styling.  Through contract work, she was support chef for The Toronto Beer Festival for 6 seasons and had the opportunity to work with a number of Food Network Canada, Celebrity chefs. Contracts at Longo's Loft, Royal Winter Fair, Gourmet Food and Wine show and much more; have allowed he to stay current with new perspectives and continued learning. She has worked in hundreds of private residences across Toronto and the GTA and even Muskoka, as a personal chef, on contracts. More recently, Nicole has been working on growing her own brand and
 has done a number of corporate Demo's and Cooking classes; as well as providing catering services.   She is very passionate about food and loves sharing techniques, nutritional information and healthy recipes.  She has a great love of food photography and has become an active member of instagram.  In 2019. her goal is to make and share more instructional videos.
 After discovering that she is among the many, that suffer from a food intolerance,it has changed the way she lives and cooks for herself.  Researching, Holistic Nutrition has sent her on a new culinary adventure.    In addition to classic Cuisine; she now also specializes in Gluten Free, Vegetarian, Vegan, Ethnic and Holistic Superfoods. As more people are suffering from food intolerances/allergies, this is where she has opted to concentrate currently.  "Let food be thy medicine and medicine be thy food" Hippocrates
"My specialty is working with clients to create an intimate and memorable experience that feels effortless and enables them to "be a guest at their own gathering".   I have branched out to be involved with cooking demonstrations and classes, after many years in the catering trenches.  I have been evolving into this role for many years. I am excited to be working with Whole Foods, Vegetarian, Vegan, Raw and Gluten Free, because I am very passionate about Holistic Nutrition and believe that "You are what you eat".    However, I am not
 limited in what I will prepare for my clients. 
 Having worked with a number of industry leaders, I feel that one of my greatest strengths is my ability to adapt to my surroundings.  I have made myself at home in more kitchens than I can count.
If you have any questions about caterers or catering your event, call 647-828-8766 
Serving:
Richmond Hill, Scarborough, Newmarket, East Gwillimbury, Aurora, Stouffville, Markham, North York, Toronto, Pickering, Woodbridge, Maple, Concord, Thornhill, Unionville, Kleinburg, Nobleton, King City, Oak Ridges, Bradford, Ajax, Barrie, Innisfil, Brampton, Etobicoke, Mississauga, Schomberg, Keswick, Sharon, Georgina
Copyright http://www.savouryfoods.ca